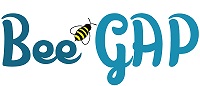 BeeGAP (Gardeners Adding Pollinators) is a nationwide initiative of Creative Woodcraft Ltd. In a large-scale social movement, BeeGAP is urging Kiwis to encourage and introduce pollinators to gardens and public spaces, as well as providing habitats and spreading the important message of pollination.
Reaching out to every gardener, green-finger beginner and nature enthusiast, the BeeGAP movement helps to raise awareness around the vital importance bees and other pollinators have in ensuring the successful future of our food crops and gardens across this great country for generations to come.
And here's where you come in...
Partnering with Oderings Garden Centres, BeeGAP is delighted to introduce a wide range of pollination-based products, both bee, bird, butterfly and conservation related, – now available in store and online. From bee habitats and bee baths to bird feeders and butterfly shelters and much, much more, Oderings is excited to offer everything you need to welcome these great pollinators to your place.
Adding to this opportunity, gardeners now have the unique option to purchase live bumble bee colonies or try their hand at raising the wonderfully gentle-natured leafcutter bees – a perfect way to get involved and play your part in a home-grown solution for everyone.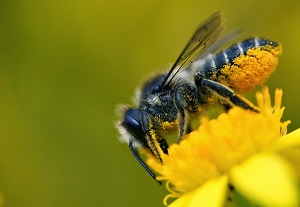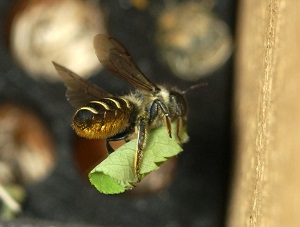 Leafcutter Bees
So, what is a leafcutter bee?
Relatively unknown until now, the leafcutter bee is an expert summer pollinator, previously unheralded despite its tireless efforts in pollinating fruit trees and flowers. A member of the Megachilidae family of bee species, the leafcutter bee is non-aggressive, non-colonising and perfectly safe around children.
An excellent alternative summer pollinator, the leafcutter bee works harmoniously with other bee species, such as the honey bee and bumble bee, and can be distinctly recognised by their fuzzy, thin yellow and grey striped abdomen.
Pollinating up to 10 times better than a typical honey bee, the leafcutter bee brings a whole new dimension to pollination activity.
Lazy by nature, the bees do not travel more than a few hundred metres (unless there is a shortage of flowers to forage on). This means the pollination and wider benefits remain right at home in your garden.
Specifically designed to house leafcutter bees, the Leafcutter Bee House comes complete with nesting trays and 50 dormant cocoons to get you started. Simply place these cocoons outside in spring and watch them emerge and pollinate through summer.
Other great pollinators
But the fuss isn't only about bees. Be sure to encourage butterflies, birds and ladybirds to your garden too, with specifically designed products to help increase pollination activity from season to season. In fact, any wildlife is beneficial to your garden, and this is something worth remembering.
Complimentary with all products, customers can visit www.beegap.co.nz for comprehensive access to the online learning resource with lessons, blog posts and product installation guides.
Get involved; encourage and introduce great pollinators at your place
With so many super options available, what are you waiting for? Get involved today and open your garden to a world of pollination possibilities. Simply visit any Oderings Garden Centre branch, or go to www.oderings.co.nz
BEE BENEFITS
Increase garden pollination (fruit trees, flowers and veggie plots)
A great talking point in any garden
Help raise awareness of solitary bees and other important pollinators
Easy to set up, maintain and reap rewards